Our writer/social media guru, Anne Miller, is a big proponent of continuing education when it comes to Social Media. The landscape changes so quickly. This summer, she's taking MediaBistro's Social Media Boot Camp to get up to speed on the latest trends that are, well, trending online. @mediabistroEDU #SMMBootCamp
A few highlights from just some of the lecturers:
Different channels, different roles: Summer Krecke, @SK_AllTheWay, at Digital Brand Architects, parsed social media channels. Her line: "Act like a brand, think like a magazine." Twitter is a table of contents, Facebook the "front of book" – those news and feature tidbits in a magazine before you get to the meaty feature stories. Pinterest, Vine and a blog are the features, and the company Website directions for how to buy.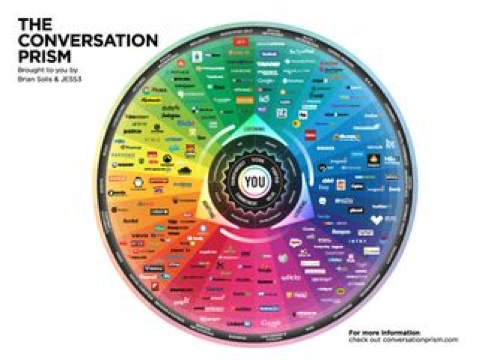 Check out The Conversation Prism's website for a visual map of the current social media landscape.
Metrics to Measure: Danielle Brigida, @starfocus, handles social media analytics for the National Wildlife Federation. Market researchers know it's not just numbers, but the right numbers, that lead to results. Most social media programs offer statistics. How can you make the best use of them? Track how people use your social media sites, and then focus on what's important to your business. Do you get the most traffic in the morning or at night? Does your Facebook skew female but your Twitter male? Decide what's most important to you, in terms of audiences to reach, and then tailor content accordingly.
Generate buzz: Lisa Raphael, @katieshow, of the Katie Show. Before Katie Couric's solo show took off, Raphael engaged social media to create buzz around the show – and continues to help built a community around the daily talk fest. Maybe your business doesn't have a national network platform, but social media can help any firm give clients a backstage pass into their inner-workings, like Raphael does for Couric, in order to build excitement, trust and a community. She handles basic customer-service requests ("how do I get tickets?") even as she also communicates with A-list celebrities. No level of engagement seems too small, and that makes her level of audience engagement super rich.
Focus on a purpose: Ella Chick, @ellapchick, until recently handled social media for Anderson Cooper 360 on CNN. She had a list of takeaways, including:
Post with purpose
Focus on visuals
Be an early adapter
Find a social media management system that works for you (TweetDeck and HootSuite are popular) and helps streamline your posts and strategy
Craft your voice: Mandy Gresh, @mjgresh, discussed creating a unified voice to give your social media channels a personality. Be conversational and authentic, and have fun. Include photos, and share others'. And include incentives. Recent studies show that the number one reason people subscribe to business social media feeds is for the contests and perks. So, reward them.
Use Google+ To Boost Your SEO: Monica Morse from Google discussed improving Google profiles for small businesses. While Google offers paid advertising options, their free services can go far in boosting business engagement in search, she said. Business owners should take charge of their local places page and upgrade to a (free) Google+ page. The Google+ page automatically pulls in social media activity, which in turn shows – and boosts engagement – in public searches. Add social media buttons to your Web site to make it easy for clients and customers to engage. Finally, she suggests creating a list of influential experts in your field, and follow them. You will learn from them, and hopefully can engage them in a way that spreads your business's message.